GLOBAL TECHNOLOGY AND INNOVATION NETWORK (GTIN)
Updates for Global Innovation Actors: 54th Edition
---
In this newsletter, learn about Global Business Inroads' (GBI) activities with top innovation networks around the globe. Subscribe to stay updated on innovation, news, and events around cleantech, biotech, and other technology sectors featured from our tech platform the Global Technology Interface™.
---
INDIA - AFRICA DIGITAL COOPERATION PLATFORM
Global Business Inroads (GBI) is collaborating with the Indian Ministry of Information and Communication Technology (MeitY) - Govt of India and the National Association of Software and Service Companies (NASSCOM) to launch the India - Africa Digital Cooperation Platform to facilitate a Virtual Business (B2B) Matchmaking Session. The initiative is supported by GBI's partners Prosper Africa and Africa International Trade and Commerce Research.
The objective is to facilitate business collaborations between African companies (corporates, SMEs, startups) seeking digital technologies, products, services and offshore/joint development opportunities with leading Indian Digital / IT solutions companies.
The initiative will bring together African companies looking for digital solutions with Indian software solutions providers through a series of India-Africa B2B networking events in 2022-23 in both virtual and physical formats. The first leg of the B2B event is scheduled on the 29th of August.
We invite African stakeholders to collaborate with us to support African companies' access to the Indian software solutions market. Please write to athiras@globalbusinessinroads.com for more information.
African companies looking to participate can register on GTI as a Technology Scouter with the code AFBSM.
GLOBAL INNOVATION EXPERT PROGRAM: ROADSHOW IN BANGALORE: 5TH - 6TH DECEMBER 2022
GBI is working with Innovation Orbit to facilitate the "Global Innovation Expert" roadshow in Bangalore on the 5th and 6th of December, 2022. Innovation Orbit is focused on the analysis and development of innovation ecosystems, with a particular emphasis on training people to understand the mechanisms of innovation processes and their cultural roots. GBI and Innovation Orbit have also co-authored a book called "𝑺𝒖𝒄𝒄𝒆𝒔𝒔𝒇𝒖𝒍 𝑰𝒏𝒏𝒐𝒗𝒂𝒕𝒊𝒐𝒏 𝑺𝒚𝒔𝒕𝒆𝒎𝒔" that covers 12 successful innovation regions and provides a deep insight into the secret mechanisms of these ecosystems, including Bangalore.
The roadshow that will be kicked off in Bangalore aims to increase participants´ understanding of how innovation processes are organised within enterprises, universities, and research organisations within regional innovation ecosystems. Participants of the program shall understand the differences in innovation ecosystems across global regions. The differences in culture will get them a deeper understanding of how regions innovate and where the strengths and weaknesses are. The roadshow will include other innovation ecosystems like Tel Aviv, Sofia, Zurich, Nairobi, New York, and Medellin later this year.
As part of the 2-day program, we are planning site visits to key organisations involved in fostering innovation in the Bangalore ecosystem. The objective of the program is to understand:
1. the way regions innovate
2. the ecosystems that pave the way for future developments
3. the cultural frameworks that speed up or slow down progress
The participants will be individuals interested in learning how different regions and cultures foster innovation. Business Unit Heads, Strategy and Business Development managers, executives and experts who are responsible for strategy and innovation management in their companies, executives who want to expand their international networks, researchers who want to prepare themselves for increasing globalisation in their sectors, business people who want to prepare themselves for a future management function.
If you would like to participate in the roadshow in Bangalore, please click here for the program, or if you would like to participate in other innovation ecosystems roadshows in Tel Aviv, Sofia, Zurich, and Nairobi, New York, and Medellin later this year. Please contact athiras@globalbusinessinroads.com.
BRIDGING INTERNATIONAL INVESTORS AND INDIAN VENTURES
GBI has taken the initiative to connect international investors looking to invest in India with emerging startups from the top incubators in the country. GBI in partnership with its international partner Second Option, has designed a program to help 10 emerging startups raise USD 100k from international investors at a valuation of 1 million USD.
Startups who are interested to apply can register on the Global Technology Interface (GTI) as Technology Displayers with the reference code INVBDG and a GTI team member will get in touch with them
Who can apply for this?
· Early stage startups in the Healthcare, Biotechnology, Edtech, EV, and IoT sector
· Startups who have at least MVP/Prototype
· Ideation stage startups are not eligible
In case of any queries please write to mgeorge@globalbusinessinroads.com
GBI IS NOW THE MARYLAND STATE INDIA OFFICE
GBI, India is a representative of the Maryland Department of Commerce office in India. GBI is assisting the MD India office in providing export assistance services to Maryland companies seeking to expand their presence in India.
GBI is supporting one Maryland company, namely, Man & Machine Inc, headquartered in Hyattsville, Maryland, USA, seeking to expand its presence in India. Man & Machine Inc. is more than just a leader in Medical Grade Keyboards and Mice. For 40 years, they have specialised in custom-engineered hardware solutions and are proud to be the worldwide #1 manufacturer of hygienic keyboards & mice for Healthcare, Dental, and Critical Care environments. Their premium, waterproof keyboards are found in many of the largest hospital systems, medical offices, and laboratories worldwide. From ORs and ICUs to patient rooms, nursing stations, to hospital carts, their product is standard equipment where infection control and patient and staff safety are a concern. With their global network of partners, they show their commitment to superior customer service, quality, and manufacturing. Hand hygiene is one of the most effective ways to prevent spreading illness to medical staff and patients.
GBI is supporting Man & Machine Inc by doing market research and identifying Medical Grade Keyboards and Mice in distributors in India. Reach out to sganeriwala@globalbusinessinroads.com if you are interested in collaborating with Man & Machine Inc.
SMART e-FLEET AND ELECTRIFICATION OF BUS FLEETS
We are collaborating with VTT Technical Research Centre of Finland Ltd (VTT) to plan and deploy optimal zero-emission vehicle fleets through a Smart e-Fleet simulation solution. VTT is a visionary research, development, and innovation partner for companies and society.

The Smart e-Fleet is a system-level simulation toolbox for optimal dimensioning electric vehicle fleets (buses, trucks, etc.) and techno-economical evaluation of various deployment scenarios. It can support the zero-emission transition of existing vehicle fleets or help redesign and reoptimise in case of partially implemented solutions. The tool can scale up scenarios in a modular in any city or environment considering various practicalities from the specific operational environment (city's topology, road infra, weather conditions, stops/delivery points, etc.), applied vehicle technologies (with specific technical characteristics and battery capacity), and location and capacity of the existing or planned to charge infrastructure. The tool creates a digital twin of the transport network. It allows studying various deployment scenarios fitting the operational constraints and projecting the cost for any of them by providing Total Cost of Ownership calculations to support the economic viability assessment, thus reducing the risk of costly mistakes in procuring vehicles and deploying charging infrastructure. Please click on this link for a short video about the Smart e-Fleet platform.

Please reach out to rchengappa@globalbusinessinroads.com to explore how you could leverage the VTT smart e-Fleet tool for easy decision-making and faster EV deployment based on simulation data evidence.
GLOBAL TECHNOLOGY AND INNOVATION SCOUTING SERVICES – TO SUPPORT STRATEGIC OBJECTIVES AND GROWTH

Over the last decade, Global Business Inroads (GBI) has been facilitating technology transfer and innovation management services for various Indian and International organisations. GBI has also developed a global network of 250+ incubators, enablers, accelerators, technology clusters and start-ups. GBI can facilitate the identification and shortlisting of innovative startups, companies and SMEs to address the strategic objectives of your organization that support your strategic growth.
What we offer-
· Time-bound and structured process fulfilling the objectives of your organization
· Access to technology and innovation in specific sectors from across the world.
· Provide a defined rationale for the startups / SMEs / companies that apply.
· Technology benchmarking and comparative analysis of the various technologies identified during primary and secondary research can be conducted.
Through our process, networks, online platform - Global Technology Interface® (GTI®), and offline relationships with tech hubs all over the world we have successfully facilitated around 20 Technology Scouting and Open Innovation challenges for various private, public and non-profit organisations.
If interested, please reach out to athiras@globalbusinessinroads.com.
GLOBAL TECHNOLOGY INTERFACE (GTI) PLATFORM OPPORTUNITIES
Global Technology Interface is a virtual platform provided by Global Business Inroads (GBI) to support virtual collaborations between international tech ecosystems – promoting an online-offline hybrid strategy for international market development. It is an online platform for companies, entrepreneurs, MSMEs, startups and R&D institutions to showcase innovative technologies and facilitate collaborations in technology, science, research, and business on a global platform in a sustained manner.
1. Collaboration opportunity with Cygni Energy
Cygni Energy is a Next-Generation Energy Storage Company and Defines the Future of Energy Storage Across Key Verticals. This Indian company provides customised Lithium-ion Battery packs for Electric Vehicles, Energy Storage, Solar, Telecom, and many other applications.
Read more about this and more at: https://lnkd.in/gaauxv6B.
2. Collaboration opportunity with Granlund Manager
Granlund Manager is cloud-based property maintenance and energy management software that creates smarter working methods, healthier buildings, and happier people. They are on the frontline of deploying advanced digital tools and operating models, such as virtual technologies and BIM models.
Click here to know more about the company.
To explore more technologies and opportunities please visit GTI.
The Network manages Europe's largest online database of business opportunities to collaborate with startups, SMEs, etc. GBI can help SMEs to find the appropriate business partners through the Enterprise Europe Network. Please find below a profile of EU SMEs seeking collaborations;
1) Dutch Eco-friendly personal care brand is looking for a sustainable Bamboo manufacturer.
The Dutch SME offers a range of eco-friendly personal care products to European retailers and airlines. Products include items such as bamboo toothbrushes, combs, hairbrushes, cotton buds and soap dishes. Currently, this SME is sourcing bamboo manufacturers in India and Vietnam (or Europe) that can produce the above-mentioned items. The Dutch SME is offering a manufacturing agreement to reliable and sustainable manufacturers to build a long-lasting partnership.
2) Swedish SME with an innovative solution for safe level crossings.
A Swedish SME is developing innovations for mobility safety. They are initially focusing on a solution to make unattended railway crossings safer based on accessible data and a system that will communicate with actors in traffic. This innovation will be cheaper, easier and faster to install than conventional safety solutions for level crossings. They are looking for partners to develop a unique safety solution together in a joint venture or technical cooperation agreement.
If you are interested to collaborate or learn more about any of the opportunities please check our page here or if you are seeking business or academic partners in Europe to manufacture, distribute, co-develop and supply your products, ideas, and services - please write to EEN India – GBI at info@globalbusinessinroads.com.

The Enterprise Europe Network and EU clusters play an essential role in mitigating vulnerabilities in international supply chains. To address these pressing issues, the Network has established a Supply Chain Resilience platform. This helps companies retain, re-structure or replace existing supply chains, as well as source raw materials, parts, components and/or (semi-)finished goods or services they need to keep production going. For further information about the event and registration, interested participants can refer to the event link.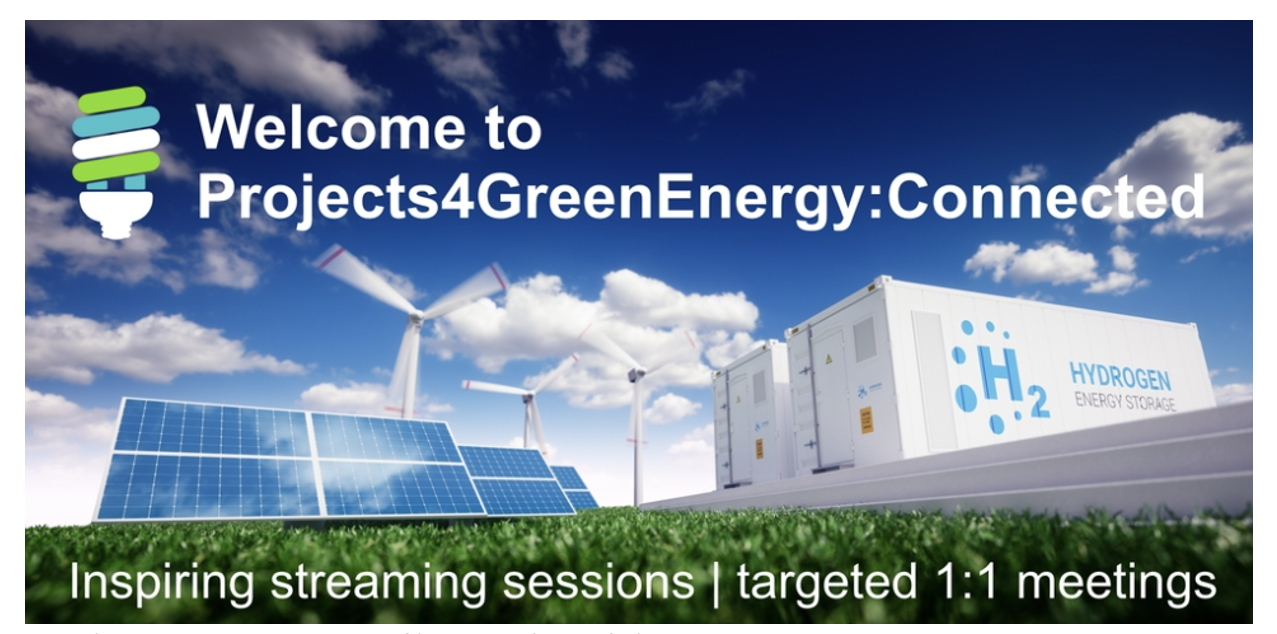 The Saxon Energy Agency (SAENA GmbH) & the Enterprise Europe Network invite you to join the online event focusing on companies, research institutions, universities, and clusters active in energy and Greentech. Participation in the B2B event, breakout sessions & streaming is free. The Projects4GreenEnergy: Connected is scheduled for 8th and 9th November 2022. For more information about the event, please click on the following link.


The International BUSINESS DAYS 2022 takes place during InnoTrans 2022. It offers an international matchmaking event (BUSINESS MEETINGS), thematic tours (BUSINESS TOURS), as well as inspiring presentations and pitches on innovation topics in transportation technology (BUSINESS SESSIONS). InnoTrans will open its doors again from 20 to 23 September 2022. Please refer to the following link here for more information.
You are receiving this email as you signed up for our newsletters.
Want to change how you receive these emails?

You can Unsubscribe or Update your preferences

Global Business Inroads